Get Your Copy of Dark Seed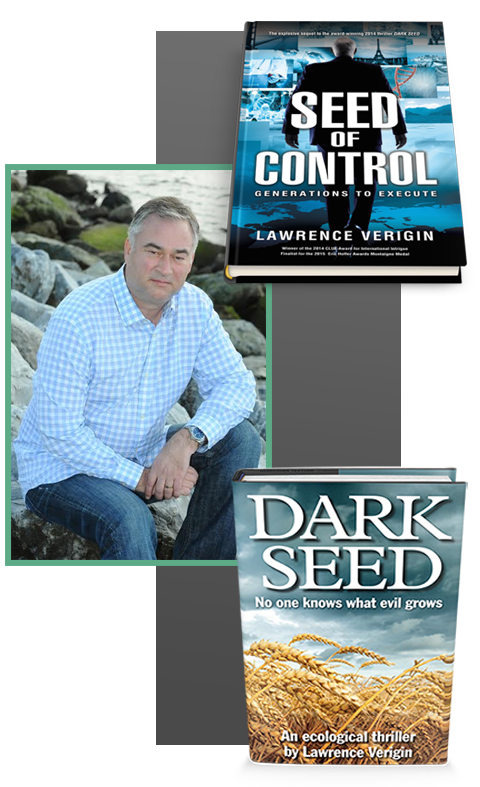 Dark Seed & Seed of Control, Thrillers by Lawrence Verigin
Seed of Control
Nick Barnes is back, setting off a chain of events that uncovers a conspiracy beyond moral comprehension against Earth's entire population. The scheme has taken generations to develop and it's on the cusp of being fully implemented.
Agrochemical and pharmaceutical industrialist Dr. Hendrick Schmidt and media baron Davis Lovemark lead the plot with the unerring belief that they are the stewards of humanity and that they alone have the right to decide the fate of the masses.
Nick's chase spans continents as he works desperately to foil Schmidt and Lovemark. But he quickly discovers that it might already be too late.
Immerse yourself in the action and intrigue of this high concept thriller that may not be as far from reality as you might think.
Read More about Seed of Control
Grab hold for a wild ride with this exciting high concept thriller that tackles one of the big issues of our time.
In Dark Seed a disillusioned journalist and the grieving daughter of a murdered scientist uncover an immoral and destructive global plot by the largest developer of genetically engineered seed and its parent pharmaceutical conglomerate.
Nick Barnes and Morgan Elles learn that the goal of the man behind the organizations is complete control of human existence. He eliminates opposition and interference without hesitation or remorse.
The couple quickly find themselves fighting for their lives...And yours.
"...With tight writing and fast-paced action readers will find themselves rapidly turning the pages to see what happens next in this disturbing "OMG this could really happen" novel."
- Chanticleer Book Reviews
---
"Verigin's pacing is masterful and adept. Strong writing and a swift plot make for a solid debut."
-Kirkus Book Reviews
Read More about Dark Seed